CERT Volunteering
By Mark Gibson (N4MQU)
As an amateur radio operator we are able to serve our community using our amateur radio communication skills during emergencies or reporting changing weather conditions to Skywarn. As a person with basic Civil Emergency Response Team (CERT) training you will get CERT Volunteer recruitment notices. I saw one the other day that sparked an interest in volunteering for it. It said Could you be a decoy for a TSA K-9? I thought that was interesting so I signed up for the first date available. The day came so I woke up at 3:30 AM and followed the directions to the airport they gave me and called my handler when I arrived at 4:30 in the morning. I am not at liberty to tell you what I did exactly but I pretended to be a passenger going through the screening process. They hid something on my person and had me go through the line. I think I went through the line four times and the dogs discovered me each time. I was handcuffed and pulled out of the line. (Not really the handcuffs I made up) I was pulled out of the line. You do have to wake up early for this activity but I had a lot of fun. I encourage you to get your basic CERT training and look for other than amateur radio opportunities you may wish to volunteer for. I made sure the handler knew I was a member of JARS CERT.

The last quarter moon at 4:30am in the morning.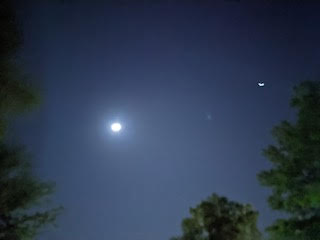 One of the dogs used in my training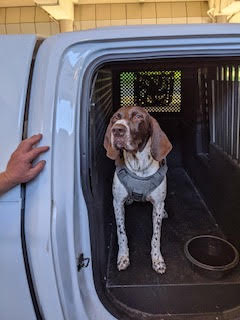 Mark Gibson N4MQU