---
The Johnston Amateur Radio Society was formed in September of 1975. The "JARS" group has come a long way in its 40 year history. A monthly newsletter is sent to the membership to keep everyone informed of the current events.

The Johnston Amateur Radio Society has exclusive rights to call the AK4H repeater (147.270 Mhz) home. The repeater is located on the WRAL/WRDC TV tower in Auburn, NC. The repeater is actually owned by the Auburn Repeater Corporation which is comprised of JARS members.
Upcoming Events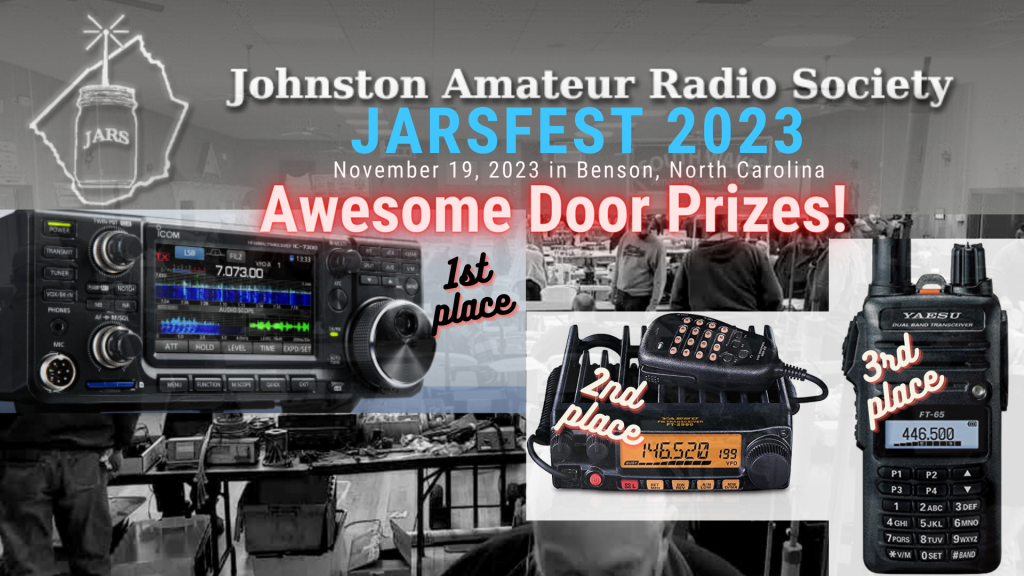 PURCHASE YOUR JARSFest 2023 Tickets & Tables 34th Annual JARSfest 2023 – November 19th 2023Now. Click here for more information.
Remember to check the Calendar for upcoming events!
Every Night @ 8:30pm – Jars Net – Nightly Rag-Chew @ 147.270 Mhz

Every Tuesday Night @ 9pm – JARS Preparedness Net
Every Wednesday Night @ 8:30pm – JARS Net & Trader's Net
Every 2nd Thursday is the JARS Officers/Board Meeting 12/08/2022 – Four Oaks Restaurant – 7pm Meeting.
Every 3rd Thursday is the JARS Monthly Meeting & Christmas Party 12/15/2022 – Cleveland Draft House – 461 Shotwell Rd, Clayton NC 27520 – Please arrive 6 – 6:30PM to eat prior to the 7pm Meeting. Hope to see you all there.
Announcements